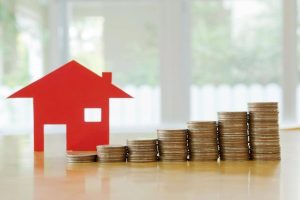 Latest blog post from Cheif DLC Economist, Dr. Sherry Cooper
It is no surprise that Canadian home sales activity slowed in January following a pulling-forward sales surge as homebuyers hurried to purchase before the mortgage rule changes in 2018. The January 1 implementation of the new OSFI B-20 regulations requires that uninsured mortgage borrowers be stress-tested at a mortgage rate 200 basis points above the contract rate at federally regulated financial institutions.
Statistics released today by the Canadian Real Estate Association (CREA) show that housing activity retreated to the lowest monthly level in three years in January. Sales were down in three-quarters of all local markets, including virtually all major urban centres. Many of the larger declines in percentage terms were posted in Greater Golden Horseshoe (GGH) markets, where sales had picked up late last year following the announcement of tighter mortgage rules coming into effect in January.
Actual (not seasonally adjusted) activity was down 2.4% from January 2017 and stood close the 10-year average for January. Sales came in below year-ago levels in about half of all local markets, led by those in the GGH region. By contrast, sales were up on a year-over-year (y-o-y) basis in the Lower Mainland of British Columbia and Vancouver Island, the Okanagan Region, Edmonton, Montreal, Greater Moncton and Halifax-Dartmouth.
According to the CREA President Andrew Peck, "The piling on of yet more mortgage rule changes that took effect starting New Year's Day has created homebuyer uncertainty and confusion. At the same time, the changes do nothing to address government concerns about home prices that stem from an ongoing supply shortage in major markets like Vancouver and Toronto. Unless these supply shortages are addressed, concerns will persist."
NEW LISTINGS FALL SHARPLY
The number of newly listed homes plunged 21.6% in January to reach the lowest level since the spring of 2009. New supply was down in about 85% of all local markets, led by a sizeable decline in the GTA. Large percentage declines were also recorded in the Lower Mainland of British Columbia and Vancouver Island, the Okanagan Region, Hamilton-Burlington, Oakville-Milton, Kitchener-Waterloo, London and St. Thomas, Kingston, and Ottawa, closely mirroring the list of markets that saw the most significant sales declines in January.
With new listings having fallen by more than sales, the national sales-to-new listings ratio tightened to 63.6% in January compared to the mid-to-high 50% range to which it held since last May.
A national sales-to-new listings ratio of between 40% and 60% is generally consistent with a balanced national housing market, with readings below and above this range indicating buyers' and sellers' markets respectively. That said, the balanced range can vary among local markets.
Based on a comparison of the sales-to-new listings ratio with its long-term average, a little over half of all local markets were in a balanced market territory in January 2018. The ratio in many markets moved one standard deviation or more above its long-term average in January due to large declines in new supply.
The number of months of inventory is another important measure of the balance between housing supply and demand. It represents how long it would take to liquidate current inventories at the current rate of sales activity.
There were 5 months of inventory on a national basis at the end of January 2018, which is close to the long-term average of 5.2 months.
The Aggregate Composite MLS® Home Price Index (HPI) rose by 7.7% y-o-y in January 2018. January's annual price increase was the 9th consecutive deceleration in y-o-y gains, continuing a trend that began last spring. It was also the smallest y-o-y increase since December 2015. The MLS® Home Price Index (MLS® HPI) provides the best way of gauging price trends because average price trends are prone to be strongly distorted by changes in the mix of sales activity from one month to the next.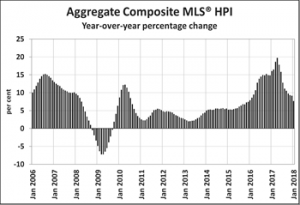 The deceleration in y-o-y price gains mainly reflects trends among GGH housing markets (the broad region surrounding Toronto) tracked by the index. While prices in the area have primarily stabilized in recent months, ongoing deceleration in y-o-y comparisons reflects the rapid rise in prices one year ago.
BREAKDOWN OF THE BENCHMARK PRICES
Apartment units again posted the most significant y-o-y price gains in January (+20.1%), followed by townhouse/row units (+12.3%), one-storey single family homes (+4.3%), and two-storey single family homes (+2.3%).
Composite benchmark home prices in the Lower Mainland of British Columbia continue to trend higher after having dipped briefly during the second half of 2016 (Greater Vancouver: +16.6% y-o-y; Fraser Valley: +22.4% y-o-y). Apartment units have been driving this regional trend in recent months, with single family home prices stable.
Benchmark home prices rose by about 14% on a y-o-y basis in Victoria and by about 20% elsewhere on Vancouver Island. These gains are similar to those recorded during the fourth quarter of last year.
Price gains have slowed considerably on a y-o-y basis in the GTA, Guelph, and Oakville-Milton; however, home prices in the former two markets remain above year-ago levels (GTA: +5.2% y o-y; Guelph: +10.9% y-o-y; Oakville-Milton: -1.2% y-o-y). Monthly prices in these markets have shown signs of stabilizing in recent months after having climbed rapidly in early 2017 and subsequently retreated.
Calgary benchmark home prices were down slightly (-0.5% y-o-y), as were home prices in Regina and Saskatoon (-4.9% y-o-y and -4.1% y-o-y, respectively).
Benchmark home prices rose by 7.2% y-o-y in Ottawa (led by an 8.1% increase in two-storey single family home prices), by 5.2% in Greater Montreal (led by a 6.2% increase in in two-storey single family home prices) and by 7.5% in Greater Moncton (driven by an 11% increase in one-storey single family home prices). (Table below).